Bike New York are sponsoring a series of bicycle training sessions for children enrolled in summer camps through out the city to learn how to safely ride. Please click the link below to learn more about this program and to support their effort.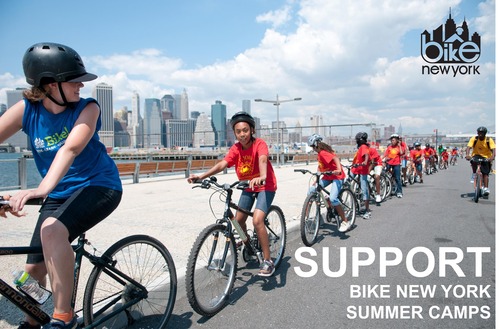 ---
Support Bike New York's Summer Camp Program!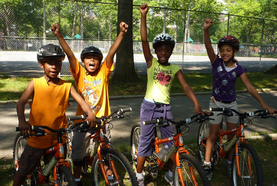 The 3rd annual Camp Bike New York is in full swing!  This innovate
program enables young New Yorkers enrolled in summer camps to meet weekly for two-hour training sessions at one
of Bike New York's nine bicycle education centers located in parks and schools throughout the city.  Our camp partners include the Police Athletic League, the Children's Aid Society, the YMCA and many more.  Last year this program reached more than 1,500 young
people.  With four new bicycle education centers we're expecting to reach more than 2,000 this year.  With your help we can reach even more!A gift of $50 helps to sponsor a summer camper.Your support will help us keep our education programs free and accessible to all New Yorkers. 

---
All donations are tax deductible and any amount can help us make New York City a better, safer place to bike.  Thank you for your support!